Why do you need 3 way water filter tap?
√ With the Rolya 3-Way Kitchen Mixer Tap range, you will never need two or more faucets in your kitchen sink again!
√ With its built-in Tri-Flow faucet, you can get hot, cold, unfiltered rainwater and filtered water all from a single faucet. It is also easy to use,
√ with the main handle at the top that controls the water temperature and the lower handle where you can select whether the water should be filtered or not.
√ This Tri-Flow Kitchen mixer tap is designed with two separate outlets that are connected to independent tubes inside to ensure that the water passge for the filtered water remains clean.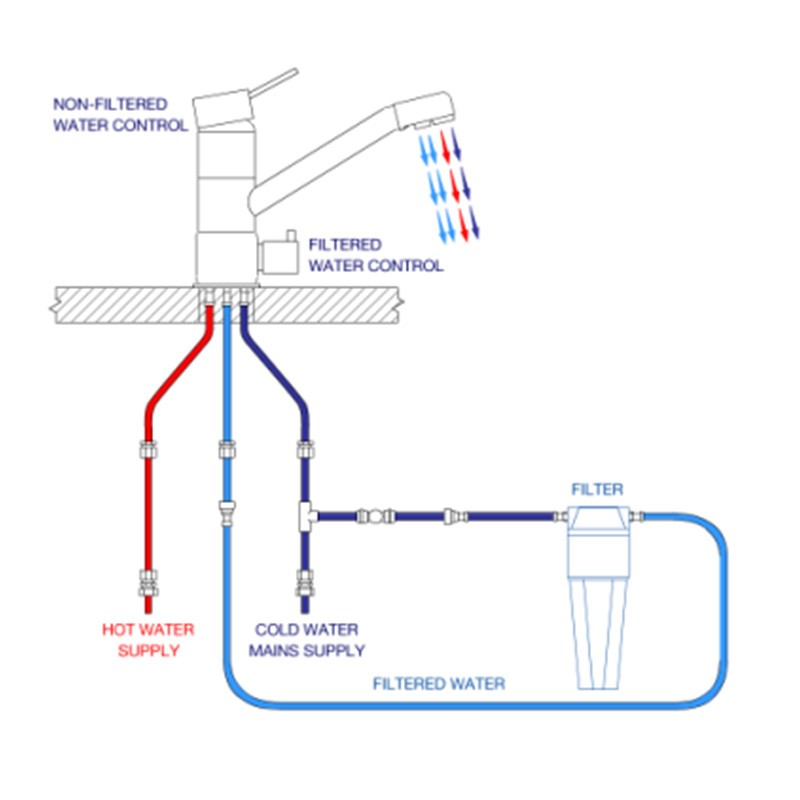 3-Way Tri Flow Budget Kitchen Mixer Tap/Faucet made from brass with a chrome plated finish this mixer tap is sure to be a show stopper in any kitchen.
Featuring standard Hot & Cold mixer on one side and a smaller handled Pure water lever on the front.
3 way mixer tap will eliminate the need for a separate water filter tap/faucet
Perfect attachment for your reverse osmosis, single, twin or triple under sink water filter system.
Eliminates the need for a separate tap for filtered water no extra hole required simply replace your existing kitchen mixer.
This tap is made from brass chrome plated
Requires 35mm Hole or will fit in any existing kitchen mixer hole.
Each tap comes individually boxed and wrapped and comes complete with 1/2″ BSP Female Braided Hoses, under bench connection kit including water filter connection, brass plate, washer and locking nut. 5 years warranty.