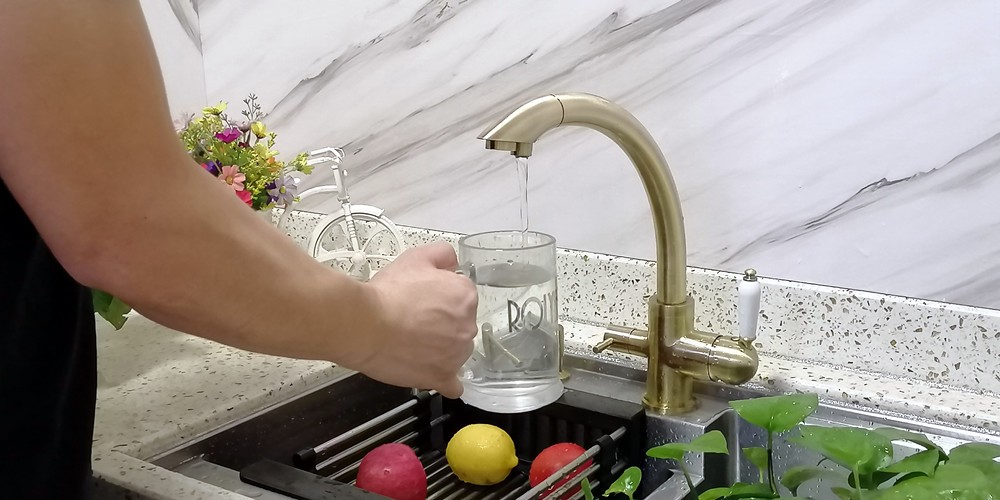 To ensure your new purchase looks sparkling new, and you have fresh filtered water on faucet, please follow these steps and guidelines when cleaning and servicing your new faucets and filter system.
CLEANING YOUR KITCHEN MIXER TAP OR DESIGNER SEPARATE FILTRATION TAP
After daily use, your new tap will need to be cleaned. The steps below will help ensure your tap is clean and looks it's best in your kitchen. All you need is a soft cloth and water.
Dampen and wash your tap with soapy water and a soft sponge or dish cloth.

With a microfiber cloth, polish the tap around the handles and spout.

Use the microfiber cloth to polish the tap until clean and dry.
CLEANING PRODUCTS TO AVOID
Never use harsh and abrasive chemical cleaners on your tap.
Do not use a cream cleanser on your tap, this will ruin the surface and acts like a sandpaper on its shiny surface.
Do not use a scourer or pot sponge anywhere near the surface of your tap.
Harsh bristle brushes, scourers or old toothbrushes will scratch your tap.
*Using any of the cleaning products or methods above will void your warranty and ruin the surface of your new purchase.
SERVICING YOUR UNDER SINK FILTER SYSTEM
To ensure you have fresh filtered water with less chemicals, we recommend you replace your filters at least every 11-12 months or at 2000L of water whichever comes first. After 11-12 months or 2000L of water, larger chemicals such as trihalomethanes and herbicides are able to bypass the carbon in the filter, meaning that it is no longer filtering effectively.